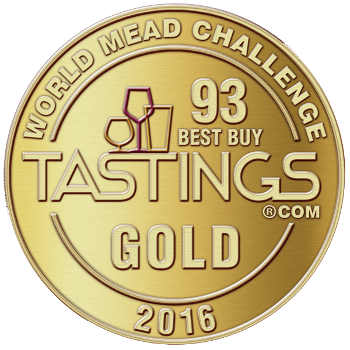 Honey Grail Boudica's Uprising received Tastings.com Gold Medal & Best Buy (Exceptional - 93 Points) as the best *sparkling* honey mead and best value priced mead (under $10). Boudica's Uprising can be found for as little as $4.69/bottle, much less than lower rated meads that cost 9X as much!

Judges described it as having, "Floral aromas and flavors of wintermint, almond-anise cookie, bubblegum dust, and cream soda..." That's a much better description that we could have ever come up with on our own!
Honey Grail won the South East regional pitch competition in Washington, D.C., of the Samuel Adams Brewing the American Dream food and beverage competition. They flew us up to Boston where we met Jim Koch, founder of the second-largest craft brewery in the U.S. (after Yuengling).